Welcome to the Lighting Designer
Design, Document and Revise Electrical Lighting Designs
Brought to you by the same team that delivered the multi-award winning The Cinema Designer software, this unique, cloud-based software is the ultimate tool in lighting design and specification.
The Lighting Designer (TLD) brings together electrical design, lighting control systems and lighting fixture specification, allowing electrical design professionals from different fields to create detailed technical designs, including CAD schematics of projects – ranging from small to complex – in only a few minutes.
Electrical Mathematics
BS: 7671 2018 provides the fulcrum to electrically correct designs with the emphasis on safety and compliance, specifying the correct panels and enclosures, as well as the appropriate protective devices (MCCB / MCB / RCCBO) and maximum permitted volt drops.
Using TLD will ensure that the electrical contracting industry will know exactly what is required of them when designing, installing, testing and inspecting any installation, confident in the fact that it is both electrically correct and compliant.
Lighting Control and AV Integration
Every AV integrator and electronic systems professional understands just how important hardware is in regards to being paired with the correct load. TLD's comprehensive database boasts the inclusion of the leading lighting control manufacturers' portfolios, allowing for quick and easy specification, design and associated documentation for any level of project.
From DALI to adaptive dimming modules, TLD will design the correct configuration and create not only a bill of materials, but CAD the panels for any project in only a few minutes.
Lighting Fixtures, Ballasts, Drivers and Transformers
As electronic professionals are aware, matching the correct fixture with the appropriate control interface can prove challenging. TLD solves this issue by providing a database of compatible drivers or ballasts to match each fixture.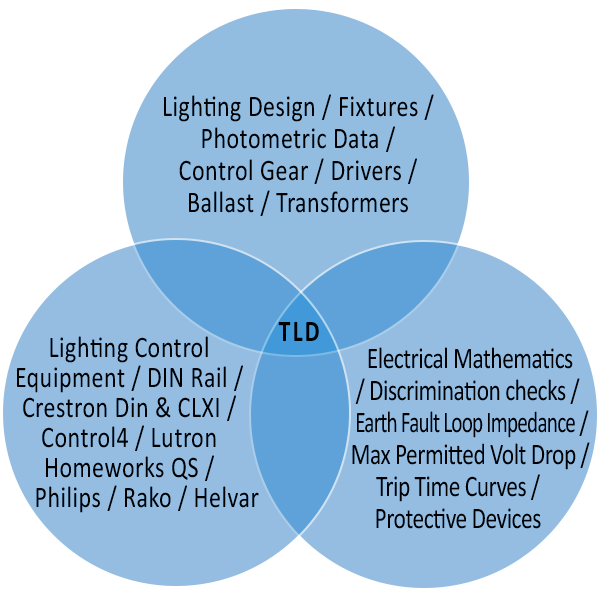 TLD also provides the relevant photometric data and specification cut sheets for each fixture and interface; making sure your lighting system works – with no nasty surprises.
The database of fixtures and drivers will make up part of the PDF specification documentation produced by TLD, in addition to producing CAD drawings of panels and overload / earth-leakage devices and the appropriate electrical mathematics.
Designs created in TLD ensure your project is not only designed in accordance with BS:7671 2018, but interoperability and compatibility issues are also taken care of.